Broken Arms
If GHD's are left on the floor, then they often get trodden on. This can cause the hinge area to snap, or the arm to crack. For example: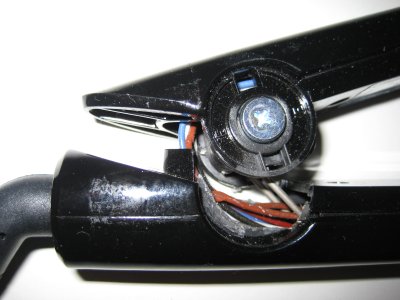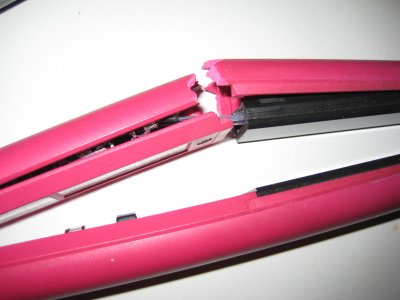 This problem is easily repairable, as long as you can get hold of the spare part. For special edition coloured arms and wide plate models, this can sometimes be a problem, however for black arms and older models it's not normally a problem. It is always worth working out which arm you need and then checking our spares shop for stock levels.
To determine which part you need to:
Work out what model your GHD's are, e.g. GHD3, GHD 3.1b, GHD 4.0B, GHD 4.2B etc. It should say on the label opposite the power switch. If it does not say, then they are probably Pre Mk3's, or an older variation of GHD3.
If you decide they are GHD3, then you'll also need to work out which variation of GHD3 they are. See the GHD3 page for more details.
If they are 4.2Bs then you'll also need to work out which type they are - type 1 or type 2. The parts are not interchangable. For information on working out which type you need see this page.
Work out which arm has broken - whether it's the "Switch Side" or the "Non Switch Side". Obviously the switch side is the one that has the power switch on it and is also the side the cable attaches to. The non switch side is the other one! Normally only one arm will have broken, however bad the break looks.
We stock arms for all the newer models of GHD. MK5, MS5, SS5, SC5. GHD S7N261 Gold and S7N421 Max.
We stock lots of arms in our online shop. If the arm required is not on our shop please contact us as we have many arms in many colours that have not been listed on our shop yet.
We can often source an out of stock arm within a few days, please contact us.
FAQs
Short URL for this page: